Staxus: Ivan Thundero and Daniel Prince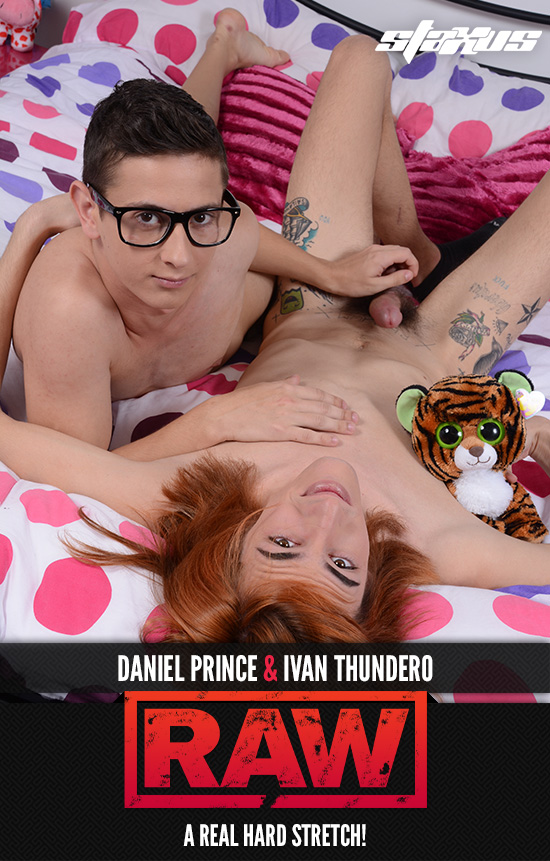 You know you've got a problem with porn on the internet when you find yourself being as totally brazen as young red-head, Ivan Thundero. For even the fact that Daniel Prince is studying in the same room as him doesn't stop the horny, hyped-up dude from reaching inside his jeans so that he can play with his dick – almost as if the bespectacled Prince wasn't there at all. Then again, of course, it could be that Thundero is just a simple, down-and-out exhibitionist, who acts the way he does in the hope of attention.
If that's the case then it's a policy that will never fail to succeed, especially given that Prince is the kind of boy who can't ever hope to resist the temptation of a thick, beefy, uncut cock – exactly the kind of beauty that Thundero has stuffed inside his trousers! Little surprise, therefore, that we're soon being entertained by the sight of Prince throwing his book aside so that he can concentrate on the meaty feast before him, which he undertakes with typical gusto and relish.
Not that Thundero himself is adverse to a little snack of sausage; but it's Prince who really has a hunger for dick, and it's no small wonder that he's soon parting his legs to accommodate his buddy's weapon in his butt-hole. Cue a fantastic display of au natural rutting that sees Prince's pucker stretched to the max in a succession of positions, and which not surprisingly is soon bringing both lads to the point of no return. The result is a sticky, breathless crescendo that will no doubt leave your own balls equally dry!