Staxus: Chase Hunt fucks Oscar Roberts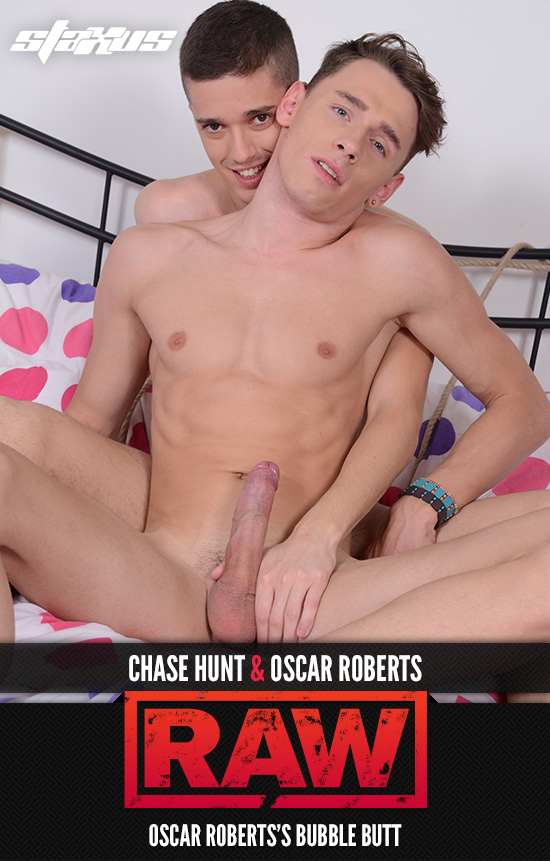 Employers looking for a somewhat unusual interview technique could always adopt the methodology of Connor Levi in this fabulous escapade between Chase Hunt and Oscar Roberts. Tired of the usual "getting to know you better" bullocks of the corporate world, Levi invites Hunt to take charge of Roberts, who's handcuffed to a bed with his arse fully exposed and crying out for attention.
Not your everyday job assessment, that's for fuckin' sure; and needless to say it's no time at all before Hunt's making the most of the opportunity by working a succession of dildos into Roberts's fuck-hole. Still wishing to prove that he's got what it takes to make it in porn, however, Hunt soon abandons the toys in favour of his fist, pummelling the poor bottom's pucker with every one of his clenched fingers – an act that (not surprisingly) soon has Roberts screaming out his appreciation.
But the whole situation only intensifies when Hunt replaces his fist with his cock – pounding away at the poor bottom's rump for all that it's worth! Fearing perhaps that it's all going to get too much for them both, the lads then proceed to subdue the sexual tension by engaging in a bondage-free session of 69-ing; but it proves only a momentary distraction given that all Hunt can think about is fucking the life out of his new mate's ass-hole.
As such it's no time at all before the lads are embroiled in a second, sweaty session of raw sex; culminating in two magnificent wads of jizz for the camera. As job interviews go, this is one that both participants will remember for a long, long time!