Staxus: Sven Laarson, Marcel Lavrov & Chase Hunt
It's hardly the basis of a world exclusive, but blond beauty, Sven Laarson, is feeling as horny as fuck. Like we say, nothing unusual there – the fact remains that the lad (like most guys his age) thinks of nothing but sex on a continual basis! Neither will it come as any surprise that his buddies, Marcel Lavrov and Chase Hunt, are similarly disposed.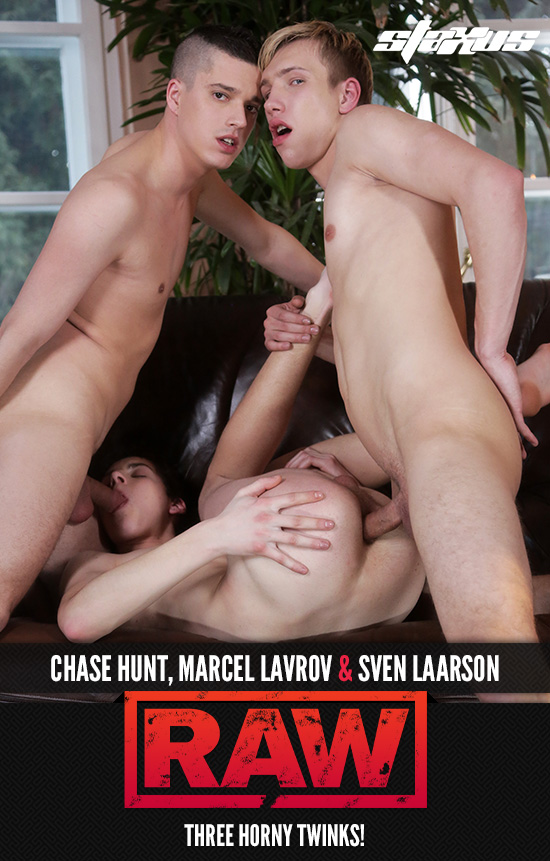 In fact, as director John Smith is clear to point out during the opening few minutes of this escapade, all three of these boys are simply engrossed by the demands of their ever-rampant dicks – be they playing pool or simply taking things easy whilst watching the world pass by their window.
So it'll come as no surprise at all to anyone that putting the trio of beauties in the same room quickly descends into a riotous melee of cock-worship, with all three guys giving and receiving head like a band of over-sexed wastrels. Lavrov, in particular, seems unable to get enough action – even to the point of sucking off both his mate's dicks simultaneously – but in truth there isn't a single one of this trio that gives the slightest indication of hesitancy for all things carnal. As such, it's no surprise at all when Lavrov begins to get pounded by Laarson and Hunt; before the three fellows form a daisy-chain on the sofa with Lavrov in the middle.

The result is a sweaty, energetic fuckathon that ultimately results in lots of pent-up jizz getting liberally splattered across each of those cute, fresh faces! Far from unique, of course, but we still defy any of our fans to watch this horned-up action and not blast some cum of their own!