Staxus: Kurt Maddox barebacks Lucius York
Teenage boys – what are they like? Any opportunity and they're watching porn on their mobiles and wanking away under their bed-covers! So it comes as no surprise to Kurt Maddox when he returns to the room that he shares with blond cock-fiend, Lucius York, to find his buddy tugging away at his dick beneath the sheets. Clearly wishing to make the most of the opportunity, Maddox responds by provocatively undressing right next to York's bed – an open invitation for action if ever there was one. And York doesn't disappoint!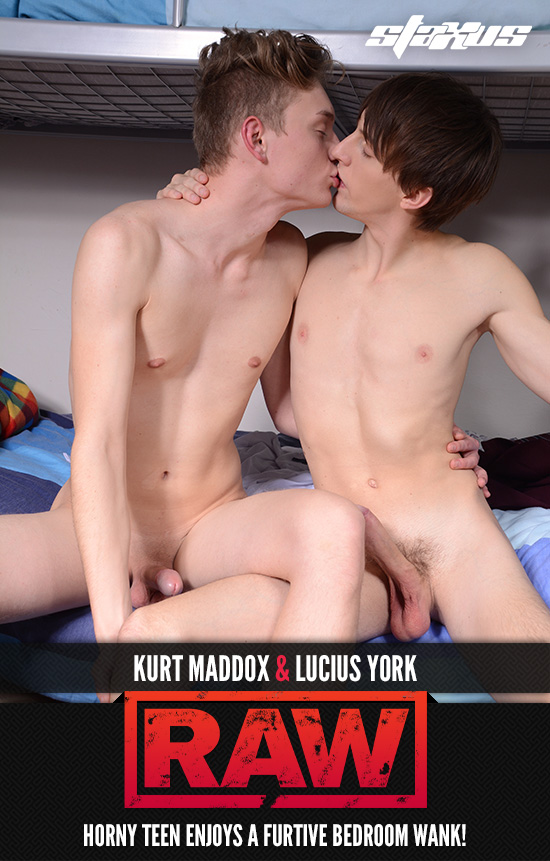 Fact is he's pouncing on his room-mate's swollen knob-end even before Maddox has chance to fully undress, signalling the start of a very sensuous session of fellatio that sees York treat his dark-headed pal to the blowjob of his short life. An act that Maddox is later only too willing to return; before the two lads fall into 69-position and partake in even more cock-worship and (in York's case) some equally stimulating ass-play. But of course by this point it's clear that ass-play is never, ever gonna be enough for these fellows, whose only concern now is to partake in some good old-fashioned sodomy

As such, it comes as absolutely no surprise whatsoever when York finally parts his legs and allows Maddox full reign on his unprotected hole – an offer that the top readily accepts, pounding the tight little pucker for all that it's worth! How the bunk-bed survives the ordeal is anyone's guess; but suffice it to say that both lads are soon spewing away like geysers!