Staxus: Brad Fitt and Aaron Aurora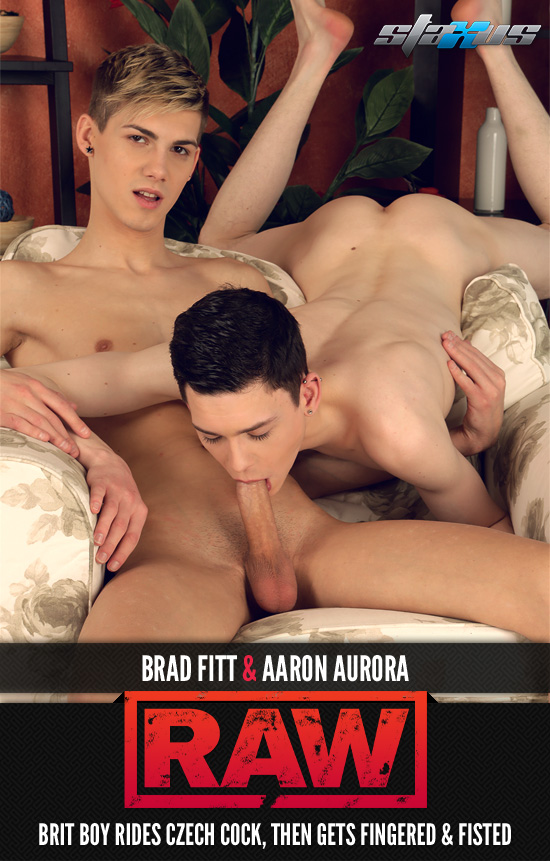 Let's be perfectly honest here, Brad Fitt and Aaron Aurora are probably two of the biggest sluts that we've got on the Staxus books, so it's not surprising that we were all looking forward to this stupendous pairing when we heard about it. Suffice it to say, we were not disappointed!
And neither, for that matter, will you be. Both Fitt and Aurora are in top-notch form as they kick off with a sexy, romantic clinch that quickly (and not surprisingly!) develops into something much harder. Fact is neither of these boys can wait to get feasting on each other's dicks – first Fitt, who slurps on Aurora's dipstick with typical gusto; then Aurora, whose mouth slides up and down his pal's shaved cock with such ease that you'd think he was born for the job! But the real action begins when Aurora finally sits down on Fitt's knob, riding that thick length of meat for all he's worth.
It's the signal for a stupendous fuck-and-fist session that sees Fitt's dick eventually replaced first by his clenched hand, then by a sex-toy – much to the Brit boy's obvious delight! All nicely topped off by a stunning open-mouthed facial that sees Aurora splattered with jizz and looking every inch the total slag!