Staxus: Orlando White fucks Brad Fitt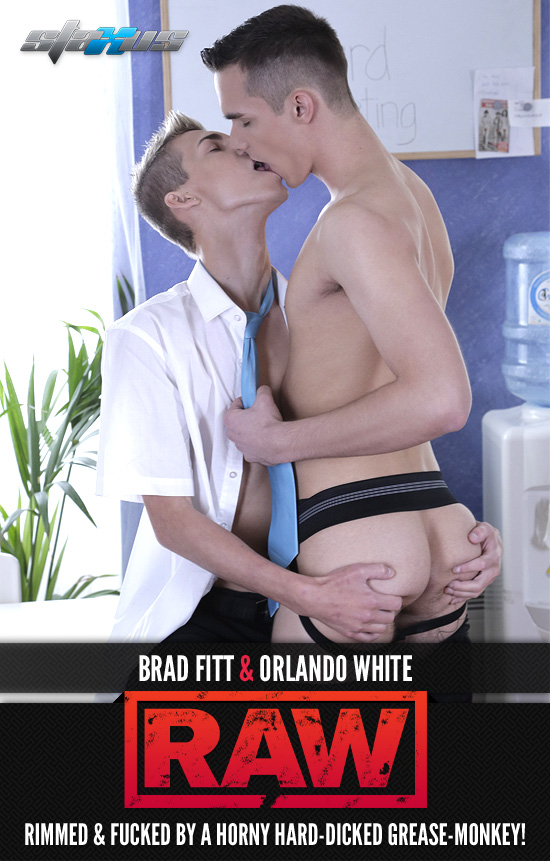 Fans of a certain age will instantly be reminded of Jennifer Beals' performance in Flashdance at the sight of Orlando White wielding a welding-torch – but it's there that the analogy ends, as white-collar worker Brad Fitt brings his horny grease-monkey into the office for a hot, sticky session of extra-contractual fornication!
Beginning with an intimate inspection of White's crotch, which soon sees Fitt working his lips up and down the entire length of dick that (to his quite obvious delight) he discovers there! Not that White appears in any way less inclined towards such appreciation, falling to his knees and feasting on Fitt's knob just a few minutes later; but by the time Fitt has returned to the task of slurping on White's cock and balls for a second occasion it's pretty apparent which of these two lads is gonna get the red hot raw fucking!
Indeed, having taken a few moments to rim the horny twink's ass, White is soon ploughing into Fitt's asshole with the kind of energy and enthusiasm that we've come to expect from the guy. No surprise, therefore, that Fitt is soon spewing a fabulous wad of cream as a result; before White blasts the contents of his low-hangers across his boss' face! Getting to know the workforce has rarely looked so appealing!