Staxus: Daniel Prince and Jaden Fox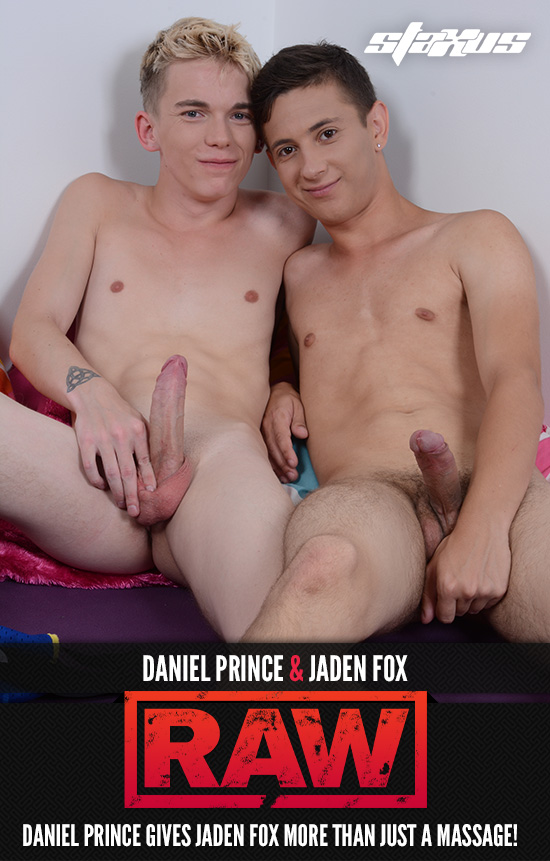 Blond beauty, Jaden Fox, is feeling rather stiff – and not just in his crotch! It's a good job, therefore, that he has the healing hands of Daniel Prince to help soothe his troubled back; though it has to be said that it's not long before the young, dark-headed masseur is turning his attention instead to what Fox has stashed in his jockstrap. At which point – as if by magic – Fox's back problems are quickly forgotten and the whole escapade takes on a much more carnal aspect.
Still, what else would you fuckin' expect from these two over-sexed cuties? It goes without saying, of course, that the removal of Fox's pants – and the revelation of the lad's hairless groin – signals the start of a sensuous session of dick-crazed fellatio, with both boys exchanging slurps on each other's cocks; before Prince cajoles Fox onto the floor and rims his mate's tight little pucker for all that it's worth in anticipation of the red-raw fucking that he's now clearly got planned. And Fox doesn't have to wait long for the plan to become hard reality!
Before the fellow seems to know it, his ass is playing host to every swollen inch of Prince's knob – something that he enjoys so much that it's no time at all before he's sat on his pal's dick and riding it like a bitch on heat! Little wonder that the guy is soon on the brink of ecstasy, jerking out a heavy wad of jizz. But it's the sight of Prince squirting over Fox's face that serves as the ultimate boon!